0
Pokémon Snakewood Part 4: Wait, we get Surf already?
Posted by
SilentSentinel
, 09 September 2011 · 40,488 views
I suppose the title reveals one development of this chapter. But other things do happen, I promise!
We left Team Justin outside of Rusturf tunnel as he came off of a grand victory over Horseman Pestilance, and defeated the source of the demons with the help of Gleis. But what about Landon and May? The obvious course seems to be for Dewford, and luckily the ever so timely Professor Birch gives Justin a tip that there may be some Surf HMs still out there somewhere, and that some people from Petalburg Gym may have survived with Balance Badges. Thanks Birch, lotta help there (Sorry, forgot to get a screenie of the call).
Anyway I suppose Haas Slave's cut will probably provide access to one or both of these items at some point soon, as there really aren't any ways out of the Rustboro area without Surf with Verdanturf Ruins blocking access to Mauville.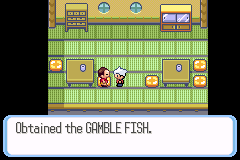 Let's begin! The house near Rusturf features a corpse hiding a Gamble Fish, aka Amulet Coin. Why Cutlerine felt the need to rename all the items, I have no idea. It goes on YIPYIPYIP for now.
After a bit of searching (Read: two seconds), I found this path blocked by a tree north of Rustboro.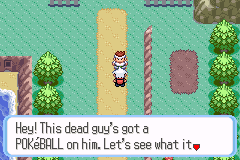 Now I'm stealing Pokémon from dead people? That's not cool at all, me.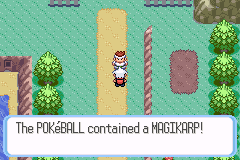 Uh... hey dead guy, you want it back?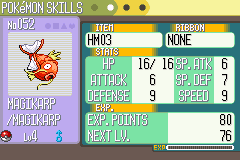 Oh, that's why. The Karp is holding HM03, Surf.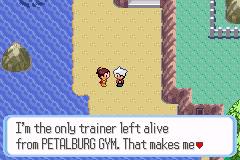 Wait... Does that mean my Dad is dead?
I will crush you for giving me such bad news!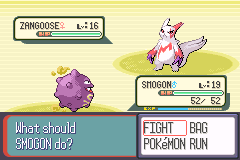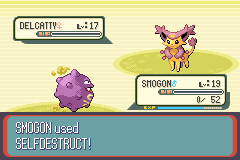 Koffing is seriously taking a long time to KO things now outside of Self-Destruct suicide bombing. That keeps making YIPYIPYIP level up much quicker.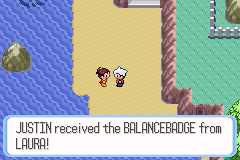 Alright! I feel so much better about my dad being dead now!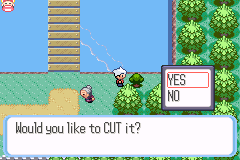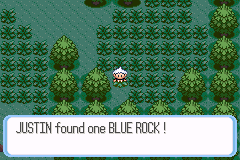 Using Cut and Surf to grab all the items around here.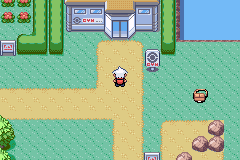 I still can't get inside the gym. Maybe I need some more badges before it lets me break through.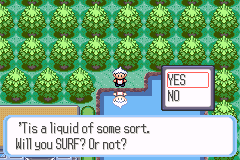 Fun Snakewood Fact: The reason why the text for surfing is "Tis a liquid of some sort" is because Cutlerine found that the script would bug out when he tried to get rid of the T from "The water is calm, want to Surf?" It was supposed to be "It's a liquid of some sort."
Anyway, boring trivia done. Hmm, we haven't poked fun at the game for a bit now.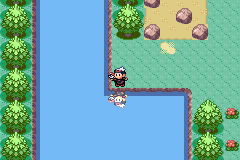 WAIT! LANDON, IS THAT YOU?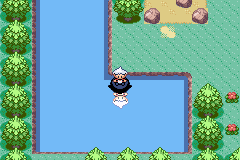 Oh. Just you, Justin. I mistook you for someone else. Now that that's out of the way, lets surf on down to Dewford Town (rhyme!), shall we?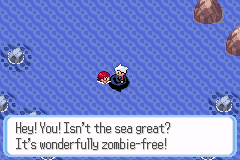 I... suppose so.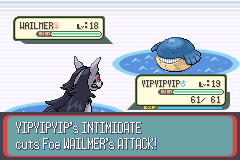 YIPYIPYIP has become the star of the team with Intimidate and STAB Bite so far. Smogon just needs to get its reliable attacking move Sludge.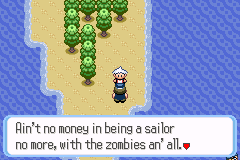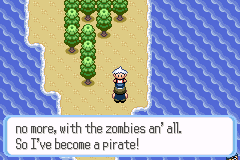 Yar, matey? Apparently Meowth and Persian got type changes to Normal/Dark.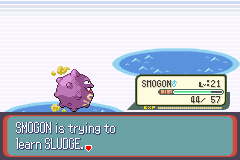 FINALLY.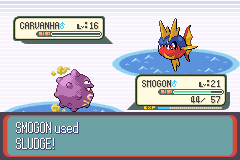 BOOM SHAKA LAKA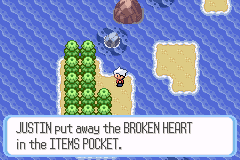 The second of the Broken Hearts is found. They probably wont have any use for a while.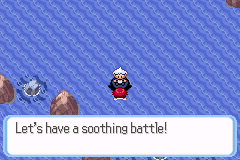 YIP YIP YIP YIP YIP is still the go-to on the uncharacteristically common Qwilfish. Pikang asked if I would be using a Qwilfish on this run to showcase its awesomness, but I have decided not to so as not to double up on types as much this time. And let's be honest, Poison isn't the type to double up on. For now, Haas Slave will work as my Surfer.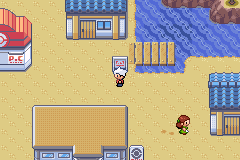 Land, ho!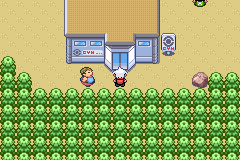 Not a whole lot going on here still. I talked to some people, got the Snakewood version of the Silk Scarf, and used the Pokecenter. I can't enter Granite Cave, so the Gym is the best option for now.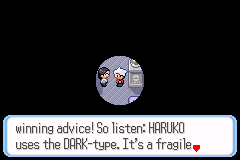 So... Brawly's gone now? I guess the gym trap fits the Dark type better.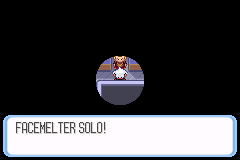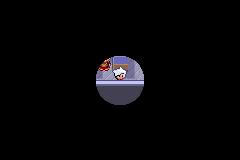 Hey no fair, the light doesn't grow after you beat a trainer! I should note here that the Shinx line gained Dark as a secondary type, which is why you might see them in future screenies.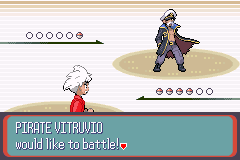 Are you sure you aren't Drake, final member of the Hoenn Elite 4? He's your twin brother? Ah, I see.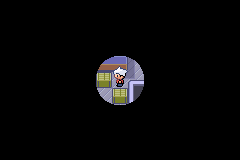 Dead end.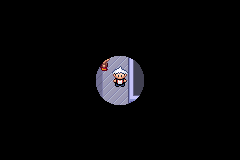 Nope.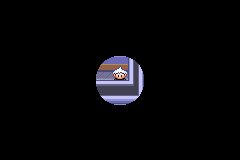 Urgh...
AHA! Uh, excuse me. You should really turn toward a person when you talk to them.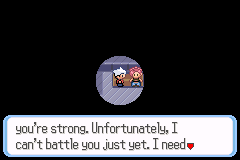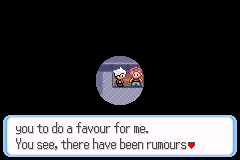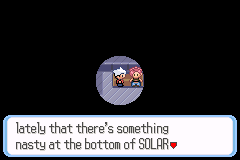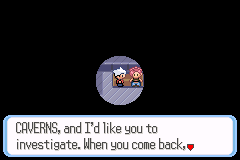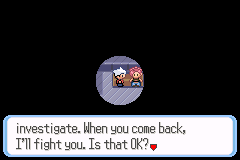 Kayfine. I guess Solar Caverns is the Granite cave now. Guess I'll check out some more houses before I go.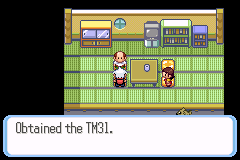 TM31 is Ice Punch now. I don't really have anything that can use it right now, but it could be good later.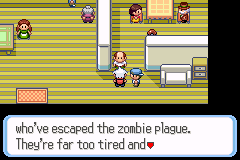 I've escaped the zombie plauge too! Why am I not getting a special room with two dumbass guards?!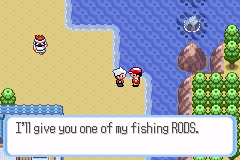 Some things never change.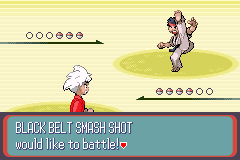 This Black Belt has a pretty strong team of Pokémon. Luckily Smogon resists fighting.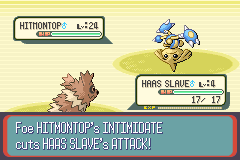 A rare shot of Haas Slave in action. If you haven't guessed, that doesn't last too long.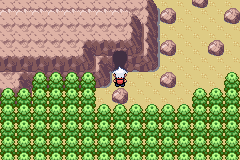 And here we are! The since the Gym Leader is too much of a wuss to do it herself, I've become her explorer-guinea pig guy, looking in a cave for some monster! What horror will be found in Solar Caverns? That will have to wait until next update, because I'm tired as shit right now.
Will Justin get eaten alive by some as of yet unknown abomination? Will the Gym Leader require huge amounts of level grinding to defeat? Will that egg finally get off its ass and hatch (seriously wondering about that)? Find out in part 5 of the Pokémon Snakewood Adventure!