0
Pokémon Snakewood: Part 1
Posted by
SilentSentinel
, 04 September 2011 · 14,869 views
A little explanation is necessary. I was inspired by the other runs of Quartz and Blazeblack to start my own Blog runthrough of what is quite possibly my favorite ROM Hack, Pokémon Snakewood. The game was made by Cutlerine and is for all intents and purposes, complete. I find its story to be quite interesting, and the game to be extremely funny and engaging overall.
The basic premise of the game is the Hoenn has been overtaken by a strange plague, which has caused an outbreak of zombies all over the continent. The government of Hoenn has broken down, with certain groups fighting for dominance in the aftermath as cities and towns are overrun. Remote Island towns like Dewford that have avoided the plague are faced with their own problems, as many people attempt to cross the rough seas to reach them. Through the game, I will have to survive wave upon wave of zombies, some rather irate Horsemen, a group of hilariously afroed men who spout out references like nobody's business, AMONSTER, infuriatingly difficult puzzles, and much much more in this runthrough of Pokémon Snakewood. I have played the game a few times, but will make every effort to keep things fresh for you. Let's begin:
Apparently I find myself with a case of amnesia. I can't remember anything, except for my own name. Wait... my name?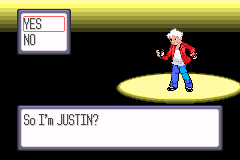 There we go. Justin FTW! After going through some vague recollections of a strange looking Pokémon, I find myself in the middle of Littleroot Town, Hoenn.
WTF HAPPENED?
NUUUUUUUUU my house... The entire town is basically destroyed, and there's no one else in sight. What's going on here?
Checking out where Birch's Lab used to be, I find three pokeballs on the ground. After soft resetting 3 times, I find that the starters for this game are Paras, Koffing, and Baltoy. I believe Cutlerine said once that he edited their stats so that they were all at 500 BST. Not great, but more than enough for now.
After weighing my options, the mighty Justin has decided to take Koffing. Paras's 4x weaknesses turn me off greatly, and I think that the combination of Koffing's high physical defense and lack of overall weaknesses will serve me well. I decide to nickname it Smogon, as it is their mascot.
Damn. It was worth a shot. Oh well. Now it's time to get the hell out of this ruin...
Typical Birch, but who's the green guy?
AWL RIGHT! It's a zombie, ready to eat my brains. Luckily I have Smogon ready to roll.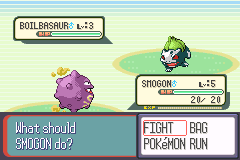 The first example of a zombified Pokémon. Most of them have similarly gross recolors.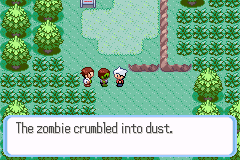 /does not remember that from zombie movies
So apparently my memory loss extends to even my closest friends. Even my brother is forgotten. Birch tells me more about the zombie plague here, but now is not the time to chitchat. We have to get out of here before more zombies come.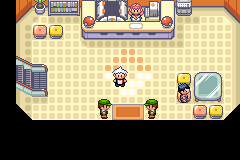 Hmm, where the hell is this?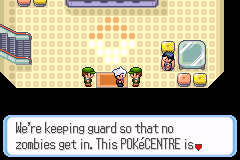 After some questioning, I find out that I'm in Oldale town, which has been able to hold out for the moment. Time to check out how the town itself is doing...
Looks like I won't be back in what was left of Littleroot anytime soon.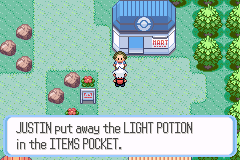 Some things never change. Well, there isn't a whole lot else to do (There's a guard that won't let me go toward Petalburg), so I guess talking to Prof. Birch on the route above Oldale should be fine.
Cutlerine seems to have taken some liberties with Birch's character lol. Anyway, Birch begins to talk about my brother and May, who are apparently dating now. Damn, Justin got ninja'd by big bro on that one.
Wait if he's the Pokémon champion and even he's missing... meh.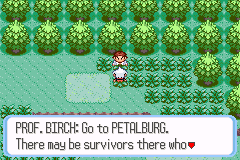 I suppose my next course is set. The goal for now is to find Landon and May. Also, I didn't happen to get a shot of it, but Birch gives me some sort of egg as well. It could be strong later, so I guess I'll keep it around. Now it's time to do a bit of training on this safe-looking route. I've decided that I want a Zigzagoon for Pickup spammage. I also want a Poochyena, because its Dark typing cover's Koffings only weakness.
Small, bipedal normal type? Right up Haas's ally!
Justin also acquires the Pooch, which is named YIPYIPYIP in homage to OI's canine Pokémon. With that, it's off to Petalburg city to check for survivors and clues as to Landon and May's whereabouts.
A new face in Oldale stops me as I attempt to leave. She seems rather bitchy, and her Deathcaller class title seems rather evil. Her Pokémon of choice is Sneasel.
YIP YIP YIP YIP YIP starts out at a disadvantage. Luckily Smogon is there to clean up later.
The mysterious Deathcaller properly introduces herself, then leaves. The path is clear to Petalburg for now...
I've seen only two cities, and already questions are stacking up. How did I lose my memory and how can I get it back? Where did Landon and May go, and what might have happened to them? Who is this mysterious Alicia? And why the hell is Birch so wierd now? Perhaps we'll find out in Part 2 of the Pokémon Snakewood Adventure!